Obituary of Henry Reed,
Times
(London), 9 December 1986, 18 (
.pdf
).
MR HENRY REED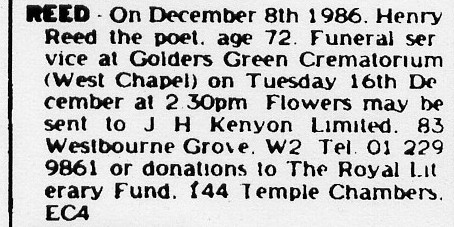 Mr Henry Reed, poet, translator and radio dramatist, died yesterday. He was 72.
He was born in Birmingham on February 22, 1914, and educated at King Edward VI Grammar School, Aston, and Birmingham University. There he became one of a circle of writers and artists that included Auden, MacNeice and Walter Allen.
After gaining an MA degree in 1936 with a brilliant thesis on Hardy he was, until war began, a freelance journalist, travelling whenever possible in Italy, eking out his income with a little teaching.
Called up in 1941, he served— "or rather," he himself wrote, "studied"— in the Army, until 1942 when he was seconded to Naval Intelligence at Bletchley. The "studied" is perhaps explained by the crash-course he underwent in Japanese, and he served out the rest of the war teaching that language to Wrens.
During these years he first made his mark, initially with "Chard Whitlow", his delightful parody of the later Eliot. It appeared over his initials in a New Statesman competition, and since an older and better-known poet had the same initials Reed did not immediately get the credit.
The authorship became obvious when "Naming of Parts" appeared. No more famous poem in English was inspired by the war, and later Reed seemed to resent its fame, for he thought it made him appear a one-poem man.
These and other poems which make up The Lessons of War (1970) won deserved acclaim. The sequence is based on his army training, and wittily describes the civilian's dismay at finding himself caught up in the military machine. The wit goes hand in hand with delicate lyricism.
His poems appeared mainly in the Listener and New Writing. He was one of the New Statesman's fiction reviewers, and a little later became its radio critic, in which role he was amusing and perceptive, at times outrageous.
The war over, he left Bletchley for Dorset, where he settled down to write the life of Hardy. It was never finished.
In 1946 Edward Sackville-West prevailed on him to write a radio-dramatic version of Moby Dick. Produced a year later with a cast which included Ralph Richardson, Cyril Cusack and Bernard Miles, it was plain that a rare poetic talent had come to radio.
It compressed the story while retaining its emotional and philosophical range, as well as its dramatic rhetoric. Awarded the Premio della Radio Italiana, it was published a year later, as was his volume of poems, A Map of Verona.
Henceforth it was as a radio dramatist that he was best known, and the work he produced must be judged as second only to MacNeice's. It falls into two groups. The texts of one of them, mainly Italian in inspiration, were published in 1971 as The Streets of Pompeii and other plays for radio. Though wit is never far away, their prevailing tone is sombre and pessimistic, in contrast to the plays of the other group, A Very Great Man Indeed and its sequels, published as Hilda Tablet and Others.
Springing out of his rueful recognition of the difficulties of writing the life of a near-contemporary, they constitute a masterpiece of modern comedy, sparkling with parodic and satirical glances at the artistic fashions of the day.
As a translator, we are indebted mainly to Reed for our knowledge of the plays of Ugo Betti. He also translated Balzac's Pere Goriot and Eugenie Grandet, and Natalia Ginzburg's play, The Advertisement.
He was happiest, probably, in Seattle where he was more than once visiting professor of poetry at Washington University.
Though he could be the most entertaining of men, he had a depressive temperament and was both hypercritical and vain about his work, so that he would worry even over commas to the extent of not publishing at all. He was, consequently, the despair of literary editors, for though he talked entrancingly about the books sent to him, he seldom managed, in later life to commit anything to paper. His only criticism to appear in book form is the useful British Council pamphlet The Novel Since 1939 (1947).
He was unmarried.
[18]