Henry Reed died December 8th, 1986, in St. Charles Hospital, London. This December marks the twentieth anniversary of his death.
This landmark makes Reed eligible for one of English Heritage's famous
Blue Plaques
, which adorn London landmarks once inhabited by eminent contibutors to the arts or industry.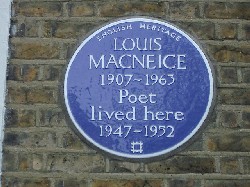 Some notable contemporaries of Reed's who have been awarded plaques include: Sir
John Betjeman
(31 Highgate West Hill), Sir
Arthur Bliss
(1 East Heath Road),
Benjamin Britten
, O.M. (173 Cromwell Road),
C. Day-Lewis
(6 Crooms Hill),
T.S. Eliot
, O.M. (3 Kensington Court Gardens),
Louis MacNeice
(52 Canonbury Park South), Dame
Edith Sitwell
(Greenhill, Hampstead High Street, Flat 42), and
Dylan Thomas
(54 Delancey Street).
Among other
requirements
, to be eligible for a Blue Plaque a person must:
Be considered eminent by a majority of members of their own profession or calling
Have made an important positive contribution to human welfare or happiness
Be recognisable to the well-informed passer-by
Deserve national recognition
Have resided in a locality for a significant period, in time or importance, within their life and work
Is the name "Henry Reed" recognizable by well-informed passers-by? Perhaps not, but certainly most people would recognize the title "Naming of Parts," or the name Hilda Tablet. Besides the argument that Reed's contributions make him eligible, there is also the difficulty of whether or not his old London flat still exists:
Plaques can only be erected on the actual building inhabited by the nominated figure, not the site where the building once stood. However, consideration may be given in cases where reconstructed buildings present an exact facsimile frontage on the identical site
Reed lived on Upper Montagu Street, Marylebone, from 1950 until his death. To complete an
application
to propose a plaque, a photograph of the location is preferred. Any London shutterbugs out there want to earn a few PayPal pounds? Flickr? Anyone?
There is good news, however. The Birmingham Civic Society already has plans to erect a Blue Plaque dedicated to Reed in their city during the centenary of his birth, in the year 2014 (see
future plaques
). W.H. Auden already has one (see this gallery of
Blue Plaques
in Birmingham). Also scheduled to receive plaques in Birmingham are Walter Allen (in 2011), and Louis MacNeice (2013).
At any rate, on Friday, December 8th I'll be stopping down at the local pub after work, to honor Mr. Reed's memory with one his favorite pastimes: having a few drinks. I'm buying!