It's always bothered me that
Henry Reed's entry
in
Contemporary Authors
lists among his accomplishments: 'Contributor of poetry and criticism to periodicals, including
Poetry, New Yorker, Theatre Arts, Nation, Newsweek,
and
Time.
' Articles and reviews which mention Reed, his poetry or translations,
do
appear in all these publications, but as far as I know, he never authored a poem or piece of criticism for any of the listed periodicals. It's as though some editor lazily flipped through a subject heading card file, or ran a keyword search for his name.
Reed comes up several times in the
New Yorker
, when his adaptations of Ugo Betti were
staged on Broadway
in 1955 and 1982, and there's a review for his translation of Buzzati's
Larger Than Life
, in 1968. So I was surprised to find a reference to "
Brief notes on works by Henry Reed and Rolfe Humphries
" in a bibliography of the writings of
Louise Bogan
.
Bogan was poetry editor of the
New Yorker
for 38 years, from 1931 until her retirement in 1969. But it was difficult for me to believe that I could have missed something as huge as a whole book review for Henry Reed. As it turns out, the American edition of Reed's poetry collection,
A Map of Verona, and Other Poems
, receives mention in the "Briefly Noted" portion of the Books column in the
New Yorker
issue for November 22, 1947 (p. 140):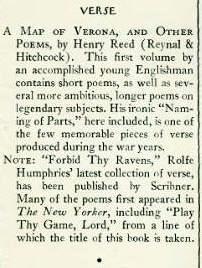 Two sentences barely even qualify as a blurb, but "accomplished", and "one of the few memorable pieces", coming from Louise Bogan? That'll do just fine. (
Rolfe Humphries
, of course, was later shamefully abused by cronies
Reed and Elizabeth Bishop
.)
You know those funny little excerpts from small town newspapers that the
New Yorker
uses as filler at the end of columns? Like "
Constabulary Notes from All Over
"? The one following Reed's blurb reads like a parody of "Naming of Parts": 'That greenish tinge on October oranges is a botanical peculiarity. It needn't bother you. These oranges are at their sweetest for they have been ripening on the trees since last May. The color does not mean that they are at their sweetest for they have been ripening on the the trees since last May.—
Richmond Times-Dispatch
.'