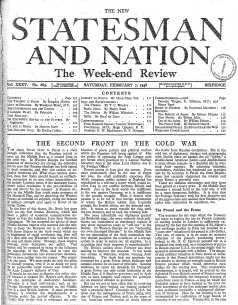 I turned up an interesting exchange in plumbing the depths of
The New Statesman and Nation
. Alongside Reed's
Radio Notes
column for February 7th, 1948, in which he assesses
Living Writers
— a collection of critical talks given on the BBC's Third Programme — was a small, one-paragraph letter to the editor from Reed himself, entitled "
Monteverdi's Vespers
" (.pdf).
In this letter, Reed is responding (apologizing, really) to a Mr. Redlich, who apparently had a strong reaction to the
Radio Notes
column of January 24th, two weeks earlier. Reed had reviewed the Third Programme's first three installments of
A History in Sound of European Music
, and lamented the "vocal inadequacy so often revealed by the Third's resuscitations of ancient music." Reed felt, for example, that the recent broadcast of
Claudio Monteverdi's
Vespers
had left him feeling "embittered and frustrated."
I do not, unfortunately, have a copy of the letter from Mr. Redlich, but I can easily surmise it appears in the January 31st, 1948 issue of
The New Statesman
. I can also deduce that Mr. Redlich probably knew well of what he spoke, if he is, in fact,
the
H.F. Redlich
, who
wrote a great deal
on Monteverdi. His opinion would have mattered a great deal to Reed, an unrepentant music snob, which would go far toward explaining his apologetic (if somewhat defensive) tone:
But I hope Mr. Redlich does not really think that I should like to hear a choral work sung throughout in a steady fortissimo. I think I have said nothing to imply that. But I also know that Italian singing can be at times excrutiatingly vulgar.
Incidentally, Reed's reply also mentions his having attended a recent music festival in
Perugia, Italy
, where he heard the Rome Opera Chorus peform some of Monteverdi's Psalms. The facts of which, I think, are some small justification for this monomaniacal attempt to track down everything written by our particular author. The briefest, 150-word editorial reveals part of Reed's itinerary from his fourth trip to Italy, in 1947.