It's true: I'm envious of people who own their own filing cabinets. I walk into someone's home or office, my eyes are inexorably drawn to their vertical file, and I find myself saying, "Man. That's a nice filing cabinet. Is that real wood, or laminate?"
Currently, I am storing the documents that make up The Bibliography in two plastic hanging file storage boxes: one for Reed as the author, and the other for secondary sources. This system replaced two large accordian files that I was using up until about a year ago (which I had taken the time to découpage with cutout photographs from magazines). I still use the accordians for toting particular documents back and forth to libraries.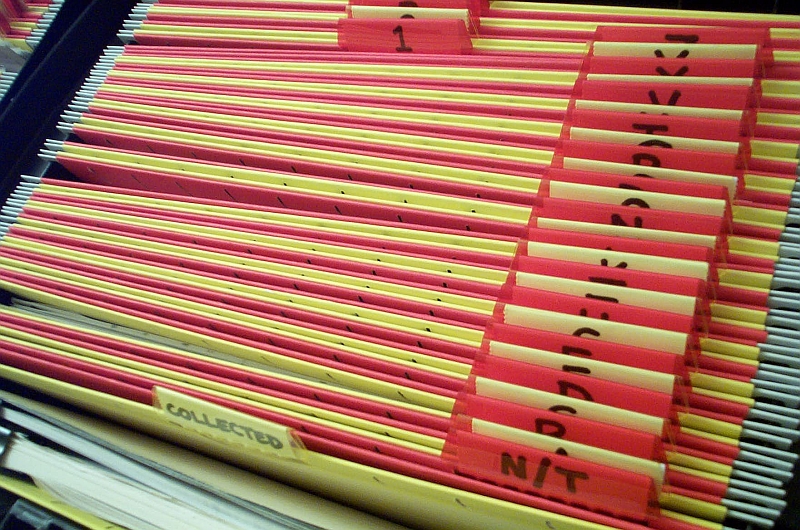 With recent acquistions from old newspapers and journals, however, it's painfully obvious that my collection has outgrown the two file boxes, and that is when I began to grow jealous of other people's office furniture. I found myself browsing the furniture aisles in Target and Staples, and even considered upgrading to leather(ette) file boxes.
Then I happened across this webpage, on the
Noguchi filing system
. Noguchi Yukio is a Japanese economist who has written several books and articles about filing and organization (see Edward Vielmetti's blog,
Vacuum
, for more on Noguchi). In this system, "Chou Seiri Hou" (Ultra Management Technique), documents are stored in individual envelopes, labelled and arranged according to the date they were created (or last accessed). Recently used files stay at the left, or current, side of the shelf (or drawer), while older, unused files drift to the right, and can be safely removed.
While the file-by-date system isn't helpful for my purposes, the striking image of all those carefully labelled envelopes got me thinking about storing my files on open shelves, instead of a clunky file cabinet. Wouldn't that be great? A wall of manila, yearning to be thumbed through. Where in town can I go to buy a bunch of modular 15" storage cubes?