Two supercool gadgets have appeared in the last week, which manipulate the information available in the
BBC Programme Catalogue
: a touchgraph applet and a sparkline comparator.
The touchgraph tool is the creation of
Alf Eaton of HubLog
. It's a Java applet which takes advantage of the
FOAF
data accompanying each contributor's record in order to produce a dynamic, relational graph: an expandable tree of who's connected to whom in the Catalog. You can double-click each name to extend a node, or click the little green "info" flag for a link to that person's record, and explore away!
Here's Henry Reed's touchgraph (click to open applet):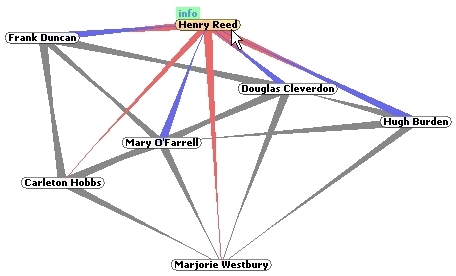 (Tip: if the links to the Catalog aren't working, reconfigure your browser's options to allow popups!) There's even a
handy bookmarklet
to launch the applet from inside the Catalog. Thank you, Alf!
The
sparkline comparator
is a Greasemonkey script for Firefox which enables you to overlay two different sparklines in the Catalog for comparison: the little graphs displaying the frequency of a person's contributions to the BBC. Everything you need to get started using the comparator is available from its author,
Phil McCarthy, over at chimpen.com
.
This is how Henry Reed's sparkline looks (in black), superimposed with that of his frequent producer,
Douglas Cleverdon
(red):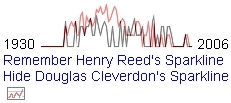 You can see the spikes for the majority of Reed's radio plays coincide with a jump for Cleverdon's productions. Isn't that neat? Thanks, Phil!
Now, what the hell is
SPARQL
?