Between August 8, 1940 and April 23, 1943, the city of Birmingham in England's West Midlands suffered 77 separate bombing raids by the German Luftwaffe. The city endured a total of 365 air raid alerts. The intended targets were the region's indispensable aircraft, transportation, and arms industries. All told, German air attacks destroyed 12,391 homes, 302 factories, 34 churches, halls and cinemas, and more than 200 other buildings. The human cost of the "
Birmingham Blitz
" (Wikipedia) was a total of 9,000 casualties, of whom 2,241 were killed. This is second only to the damage inflicted on London during the war.
There is an excellent
slideshow
depicting the aftermath of the attacks on the
Birmingham Air Raids Remembrance Association
(BARRA) website.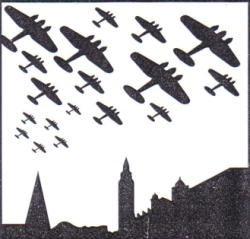 In a 1996 interview, the Surrealist painter Conroy Maddox (
previously
) mentions two incidents when he took shelter with Henry Reed during the Birmingham air raids, once in a public bathroom, and again at
Birmingham Town Hall
:
Well, I suppose the significant moments were dodging the bombs as you fought. Henry Reed, the poet, was in Birmingham at that time, and lots of other people, and I remember being with him once, we were walking near Aston, and suddenly we heard bombs falling around, the alarm had already gone off, so we went down to a public lavatory. And of course women did as well, to get out of... it seemed a fairly safe place. But it was a bit embarrassing for the women, you know. But, we just sat on the books we had. And I always remember the book I had, which was Nicolas Calas's "
Confound the Wise
" (WorldCat), which is a glorious study of course, and I remember sitting on that on these cold slabs, you know, for hours on end until the alarm, the all-clear went off. Henry Reed and I once, a lot of people sheltered in the town hall under the arches, but we decided not to stay with the crowd but went up on the balcony and sat there. It wasn't until the light came that we realised it was a glass skylight, which wasn't very safe. But, no, I mean, the other thing of course was, you didn't know what was going to happen, I mean you just, you went to parties one night, you stayed up, or lounged around all night; you had to work the next morning, and you would go to another party the next night, you know. (F6321B, page 24)
The interview was conducted by Robin Dutt at Maddox's home in London, as a part of the
National Life Stories collection
: Artist's Lives project, and is available through the British Library's
Archival Sound Recording service
. There is a
full transcript
of the interview (208 page .pdf), but audio is only available in the U.K., and requires an Athens ID.
Maddox had been "reserved" from military service during World War II, as he was working in the engineering and design industry, so I'm not entirely sure what he meant by "dodging the bombs as you fought". In the interview he remembers thinking: 'I don't really want to be in the Army, all this walking the troops that, you know, soldiers do. Flying I didn't believe in, you know, and as for the Navy, well you know, they still had that idea of women and children first. I wasn't in favour of any of these things' (F6321B, page 21).
It's easy to see why Maddox and Reed were friends. I wonder what book Reed was sitting on, in the loo?