Well, Hardy boys and girls, as with most things in life, the solution to
yesterday's mystery
would have been easily reached, had I simply paid better attention in math class. Or trusted in the radio times tables published in
The Times
.
There is no great mystery: Henry Reed's radio tribute to Thomas Hardy was broadcast as advertised, on Sunday, February 20th, 1955, on the BBC Home Service, at 10:05 pm. Gibson's book had the date wrong, and I had mistakenly read
"10.5"
as
10:50
, not 10:05. The
Times
, in their grand crusade for brevity and clarity, simply outsmarted me (not difficult to do, apparently). The program ran 47 minutes, until 10:52 pm. Here is the mention from
The Listener's
"
Spoken Word
" (.pdf) column for March 3rd, by Martin Armstrong: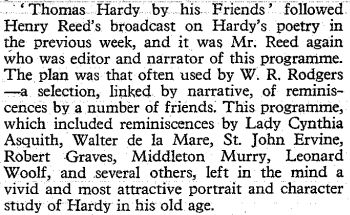 (p. 399)
The clue to figuring this all out lies in that the seemingly ambiguous time references in
The Listener
. They're not ambiguous; they're rock solid. This
Listener
came out on Thursday, March 3rd, but covered broadcasting from Sunday, February 20th to Saturday, February 26th. Reed's 'broadcast on Hardy's poetry' falls in 'the previous week', even though it was broadcast only one day before "Thomas Hardy: a tribute from his friends."
Here is Armstrong's review of "
The Poetry of Thomas Hardy: a study by Henry Reed
," (.pdf) from
The Listener
of February 24th, 1955:
Thomas Hardy was a great English poet, but he wrote poetry as well as prose, or rather prose as well as poetry. On the previous evening Henry Reed gave an hour's discourse, with copious illustrations read by Mary O'Farrell, Michael Hordern and James McKechnie, on 'The Poetry of Thomas Hardy'. Listening to Mr. Reed I sometimes feel that I am back in the old classroom under the eye of one of the sterner and more intelligent of my schoolmasters and that if I were to venture a giggle or an independent view I would receive a disapproving glance. Nevertheless I enjoy myself and am the better for my lesson. Mr. Reed presented Hardy's poems in the light of his history, and this approach considerably enhanced one's appreciation of them. He suggested that a new edition of the poems is needed in which they run parallel with the biography—an admirable notion, it seems to me, but one that would involve a herculean job for its editor. The poems were excellently read by all three readers. Mary O'Farrell proved, if proof were necessary, that she is one of the two best women readers of poetry on the B.B.C.
(p. 355)
Reed once had hopes of writing a biography of Hardy, and worked on this book on and off from the mid-1930s until the 1950s, when he finally gave in and gave up. These two, short broadcasts were the only tangible result of his 20 years of devotion and labor, his life's work. I sometimes also feel I am under the stern and disapproving eye of Mr. Reed, though sometimes, when I solve some particularly confounding problem, I feel him give me a wink.