Four days and a fistful of dollars in photocopier fees later, my little collection is heavier by a grand total of 20 articles: no fewer than 16, primary source, Reed-written book reviews and talks; one Reed poem as it originally appeared at publication; and three reviews of his radio work by secondary authors. All culled from 12 volumes of the BBC's
Listener
, spanning just nine years, 1949-1958: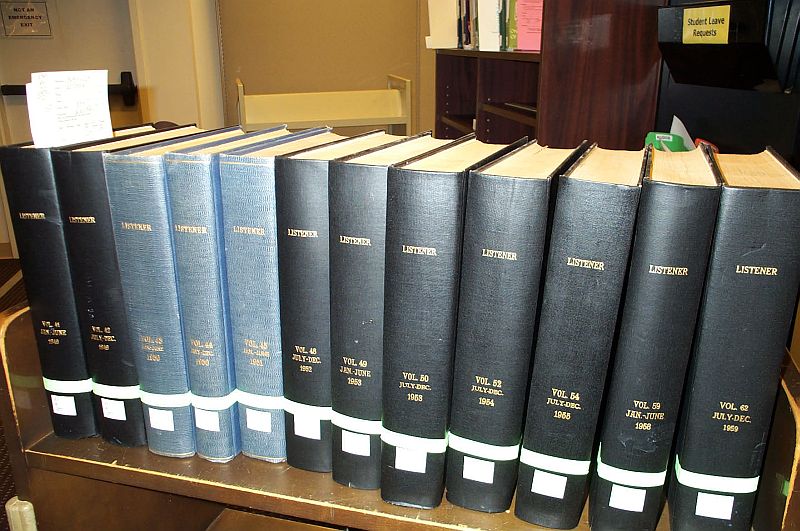 I also managed to eliminate several duplicate records in the bibliography owing to innaccurate or incorrect citations, and deleted a couple of leads which turned out to be dead ends (more mistaken references to Sir Herbert Read. Damn poseur).
The haul includes several essential and long sought-after items, including Reed's two-part radio essay on the problems of dramatic writing ("Towards 'The Cocktail Party'"); Reed's take on Joyce's effect on the English novel ("The Triple Exile"); and "'If and Perhaps and But'," a look at Eliot's critical prose.
The last two days, when I sidled up to the library copier, I discovered the previous user had left the machine set to the scanner, instead of for simply making copies. I didn't think much of it, but then I had a sudden epiphany: the library copiers are set up to scan straight to email! We have this luxury on the staff copy machines, of course. But it wasn't until this evening that I even dared to imagine that the public machines have this marvelous capability. I do dream in a dream.
Next up: "Reeding Lessons" tackles
The New Statesman and Nation
!