Covering and recovering some old ground today, when up pops a short but pithy bio in this rare anthology:
The Voice of Poetry, 1930-1950
, edited by Hermann Peschmann (London: Evans Bros., 1950). The book includes Reed's "Naming of Parts," but Peschmann seems to have taken the time to personally poll his contributors for personal information: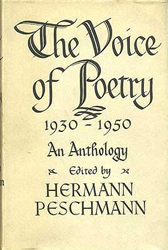 Reed, Henry. Born 1914 in Birmingham and educated there, inc. Birmingham Univ. Called up 1941, went to Foreign Office 1942—6. Since then whole-time writer—but says he is a slow worker. Broadcasts on books and films and enjoys writing radioscripts on extended themes, e.g.
Moby Dick.
Fond of films, theatre and opera, and of playing the piano badly and for long stretches of time. One verse book:
A Map of Verona
(1946).
[p. 239]
Peschmann was, for a time in the 1940s, a lecturer in English literature for the Adult Education Department of Goldsmith College, University of London, known as a critic and for his correspondence with Dylan Thomas and others.
This anthology was published in 1950, so Reed's BBC radio adaptation of
Moby Dick
(January, 1947),
Pytheas: A Dramatic Speculation
(May, 1947), and
The Unblest: A Study of the Italian Poet Giacomo Leopardi
(May, 1949) would have been his only features thus far. Reed's love of theatre (and actors), opera, and film are well-documented in his letters and book reviews, and he often lamented his meticulous, plodding writing process, but the fact that he played the piano, however poorly, is actually news to me.
This tiny tidbit is so heartbreakingly personal—paraphrased from a letter or questionnaire or phone call to Reed—it's tempting to try and track down a copy of the book.