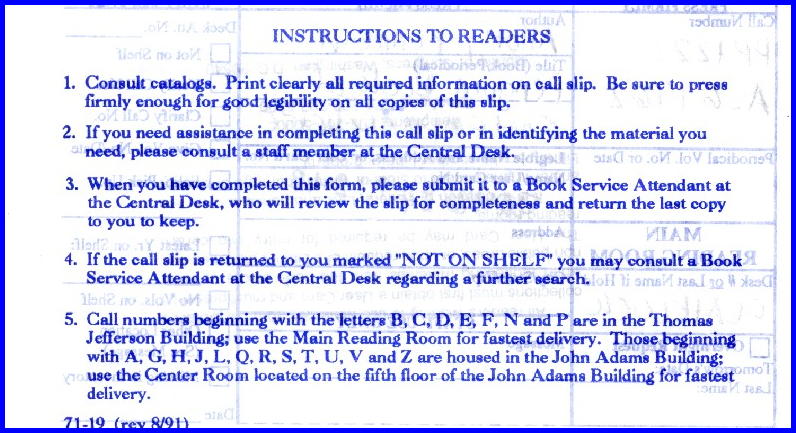 Taking the Metro Blue Line from Franconia-Springfield, it's quicker to transfer to the Yellow into L'Enfant Plaza, and get back on the Blue or Orange Lines to Capitol South.
Reader Registration is in the Madison Building off Independence Ave., requires everything short of a DNA sample, and offers less-than-helpful research guidance.
Get a map.
The tunnels connecting the buildings are in the basement, which is the "C" button (for cellar) in the elevators. The Jefferson cloakroom is on "G" (for ground floor).
You can take fewer belongings into the main reading room than you can visiting Hannibal Lector. Wear a sweater, 'cause you can't keep your coat.
The Reference librarians working the Main Reading Room know their stuff, but the book service attendants at the Central Desk have the inside skinny.
Call numbers B-F, N and P are kept in Jefferson; A, G, H, J, L, Q-V and Z are in Adams. You can get books transferred between buildings, but it takes an additional half-hour (on top of 45 minutes). Put in a request at Adams (red slips), walk to Jefferson, place requests there (blue slips, see below), and go back to Adams. Alternately, get everything sent to Adams. better reader-to-photocopier ratio.
Bring a ballpoint, because all they have are those ridiculous little library golf-pencils with no erasers.
You can pretty much wander the halls at will, and it's easy to get lost looking for a restroom or water bubbler. Their signage sucks (exit → ← exit), but the ceilings in the main halls are color-coded.
Rare Books is closed on Saturdays.
There's a photocopy card vending machine in the Jefferson cloakroom. Copies are 20¢ per page!
Main Reading Room copiers? enter, alcove 7. exit, alcove 8. They have a scanner. Someone will be using the scanner to unselfconsciously image an entire two hundred-year-old dictionary, and there will be a lengthy queue of murderous stares.
Ten years ago, I went to the LoC to get copies of uncollected J.D. Salinger short stories that mention Holden Morrisey Caulfield ("Last Day of the Last Furlough," Sat. Eve. Post, 15 July 1944. "Slight Rebellion Off Madison," New Yorker, 21 Dec. 1946). The photocopy card I bought back then still works. Not only did it still work, it still had $7.55 left on it!
Don't count on finding a hotdog or pretzel vendor outside. Bullfeathers is close by (but they don't have grape soda).