I've just discovered that Carcanet included Reed's underappreciated longer poem, "The Auction Sale," in a 2010 anthology of work originally published as
Greville Press
pamphlets:
A Field of Large Desires
.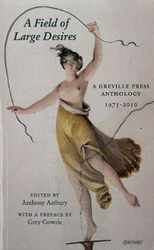 Edited by Anthony Astbury, who
opened the Greville Press
(officially) in 1979 in the hopes that poetry in England "
will happen again," the new collection is "both a treasure trove and a celebration of a remarkable venture."

The title comes from a sonnet by Fulke Greville, Lord Brook:
Man's youth it is a field of large desires,
Which pleas'd within, doth all without them please;
For in this love of men live those sweet fires,
That kindle worth and kindness unto praise;
     And where self-love most from her selfness gives,
     Man greatest in himself, and others lives.
The anthology includes pieces by Robert Bridges, Hart Crane, Elizabeth Daryush, Lawrence Durrell, Kate Ellis, David Gascoyne, W.S. Graham, Robert Graves, Ian Hamilton, John Heath-Stubbs, George Herbert, John Masefield, Edna O'Brien, Harold Pinter, Anne Ridler, Alan Ross, Martin Seymour-Smith, C.H. Sisson, Stevie Smith, and Arseny Tarkovsky, among others.

Henry Reed's "The Auction Sale" was printed as a Greville Press pamphlet in 2006.